Banana Republic offers two credit cards, serviced by GE Money Bank. The conventional store card, known as Bananacard, which can be used in Banana Republic and its affiliate stores. This is an excellent advantage as this gives more reward points opportunities. The other card is the Banana Republic Visa card which can be used in any shopping point where Visa is accepted. Key difference between the two cards is that you need a much higher credit rating to get the Visa card. Unfortunately you can't choose which card to get as that will be decided based on your credit rating score. With the online facility members can keep a tab on balances, make payments and order online statements.

Rates and Fees of Banana Republic Credit Card.
The rates are on the higher side. The APR for the Bananacard is 24.99% and that of the Banana Replublic Visa Card is 23.99%. Cash advances are possible with the Visa card with a minimum $10 fee. Late payment fees are at $35 maximum. So if you aren't regular and prompt in your payments then this card would take a toll on your purse. Usage Options are  definitely a salient feature in our  Banana Republic Credit card review. Irrespective of the card type, the Banana Republic card can be used in all its affiliate stores for example
Gap.
Piperlime.
Old Navy.
Athleta.
This is advantage one doesn't get in most store cards. Apart from this flexibility, it also is fantastic opportunity for users to earn more reward points.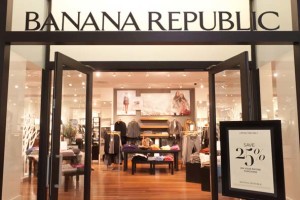 Rewards Scheme of Banana Republic Credit Card.
Another salient feature in the Banana Republic Credit Card review is the lucrative rewards. The reward points are attractive with 5 points for every $1 spent in the store as well as the affiliate stores. Additionally for every 1000 points there is a $10 reward card. In other words for every $200 spent one gets $10, coming up to a 5% rebate, which far superior to most store cards. This definitely a big advantage this card gives. In case you also get eligible for the Visa card, then you have the advantage of getting 1 point for every $1 spent. This is an additional benefit. Other benefits included in our Banana Republic Credit Car review are:
 Birthday offers
Tuesday offers of 10% off at Gap, Piperlime and Old Navy only.
15% discount on first purchase
If you spend $800 or more in the Banana Republic store or the affiliate stores, during the year, you can get elevated to the Luxe card automatically. This brings additional benefits.
a. You can choose your own Sale day for a 15% extra discount.
 There is free shipping for online shoppers.
Free basic alterations on Banana Republic purchases.
Separate Customer Service number.
Extra sales and promotions.
But a point to remember is that if one wants to keep the Luxe status, one needs to keep spending $800 year on year, which is not the best deal. However, free alterations can prove to be a great benefit if you do family shopping in these stores.
Customer Service.
In our  review we will look into Customer Service. There has been some noise around customer service standards. Also there have been complaints of reward point expiring quickly due to certain conditions. Low credit on the cards is another point of complaints as it hinders more purchases. Complaints that the website being slower than the other sites for payments have also surfaced time and again.
Overall View and the last part of our Banana Republic Credit Card review.
After carefully going through all about this card, we notice two crucial advantages of this card i.e. wider usage options across stores and a 5% rebate. These are benefits not easily available in other store cards. But it makes real sense to go for this card if you shop very frequently from Banana Republic or it sister brands.The true benefits of this card can be enjoyed only in case you are a Banana Republicholic ! I hope that you have enjoyed our Banana Republic Credit Card review
How To Save On All Banana Republic Purchases.