Credit cards have existed for some time now. It's a safer way of transaction for both the buyers and the sellers. Customers can carry just a credit card conveniently and make purchases without having to worry about the risks of carrying cash in their pockets. Even online payment can be made through credit cards. This is one of the reason that provokes cybercrimes. Scams have engulfed credit card transactions, but there is a way to deal with such problems. Credit card authorization form provides a secure way of transaction through credit cards.
Fill the credit card authorization form with utmost care.
This world is full of innovation and crime, and no one can be trusted when it comes to money. Anyone can easily steal your credit card information or the card itself. You might even forget your credit card somewhere in between the hassle, tensions, or because of carelessness. Credit card authorization form lets you pay the amount of purchase without having to swipe your credit card. This form consists of all the important information of the card holder that is required to carry out the transaction. The credit card authorization form must have your residence address, credit card details, billing information and the 3-4 digit security code that is given at the back of your credit card. This helps in reducing the risk of the seller and keeping a check on frauds. Make sure you fill the authorization form completely without any accidental mistakes or it can cause a hurdle in your transactions. Fill in each detail of your purchase such as the number of items and their description, mention the price of each item as well as the total amount of your purchase with tax (if any). You might need to present an identity proof in order to verify that you are the card holder. Do not forget to sign the credit authorization form before submitting it to the seller.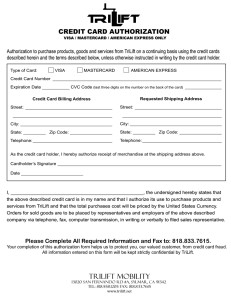 This request for authorization is transferred to the bank that is concerned with the seller's company and then they forward it to the bank that has issued the card. The bank carries out various procedures before proceeding with the transaction. The validity of your account, balance in your account, and card details are checked and verified. On the basis of the mentioned details, the bank then decides to either approve or disapprove the transaction. An authorization code is sent online to the seller that applied for that transaction. In case the transaction is granted, the amount of money required to make the purchase is reserved by the bank. The bank then transfers this reserved money to the bank that is dealing with the seller firm.
The bank charges a little fee for using the credit card authorization form, but it is lesser than the fee charged for card payment. It is not just about the money, but also about safety. Credit card authorization form also decreases the risk of theft and fraud charges for purchases you