GE credit card is gaining popularity in the market with each passing day. With this kind of credit card, you can have all the convenience of paying your utility bills and enjoy the rewards by shopping online. Not only that, like the other best credit cards in the market, GE credit card also gives you 55 days of interest free credit money. The best thing about the GE credit cards is you can live a peaceful life by having a manageable and limited credit line which makes sure you are not over extending on your expenses.
Cash availability – You are in urgent need of cash, GE capital credit card is the solution. GE cards give you an option to withdraw money from over 900,000 ATMs and banks around the globe. So the next time you find yourself in urgent need of cash, just swipe your GE money credit card in the nearest GE ATM and get instant cash in your hands.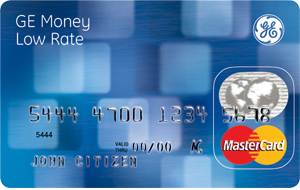 Let's answer some of frequently asked questions about the GE credit card.
Is it possible to make payment of my bills through my GE credit card?
Yes, it gives you several options to pay your utility bills and other credit payments on easy clicks over the web. All this is possible with the Direct Debit feature of the card.
Can I make use of GE credit card overseas?
Yes, you can use your GE card around the globe. There are more than 23 million locations where GE credit card is accepted.
Can I handle my account online?
GE credit card login gives you an online account where you can manage all your important details such as account status, transaction history, request increase in the credit limit, account profile and make payments to your credit card bill without any hassle.
What is an online service centre?
Online service centre is an option that allows handling your GE credit card account online.
How can I request an increase and decrease in my credit line?
This card gives you an option to increase your credit limit and this can be done by raising request from your online account. Also, if you wish to decrease your credit limit, you can call on their 24 hour helpline number.
How to avoid late payment charges?
If you find yourself in a situation where you know you won't be able to pay the outstanding due, make sure you pay the minimum due.
What should be done if I do not have money to pay the minimum due?
You do not need to worry. GE credit cards have hardship policy for customers. This can tailor a solution to your problem. For more information on hardship policies, you can read the terms and conditions for better understanding.
How can I stay away from paying interest on purchases?
You can avoid paying interest by paying the entire outstanding balance at once before the interest free timeline ends.
GE credit card has got all the features and facilities one would look for in a credit card. So before you end up paying heavy interest on other credit cards, it will be better if you move on to credit card that thinks about your needs. If you have still not opted for  credit cards, sign up today and apply online for the card that you desire.