What happens when even after 50 years of touching the lives of your clients you are still driven by an urge to provide authentic hospitality? Well you introduce them to the Hyatt Credit Card. This is exactly what Hyatt has done, rewarded its clients as part of its guest loyalty program.
You may wonder what makes it different from all the other hotel credit cards? well here is just a sample of the rewards of using a Hyatt hotel credit card.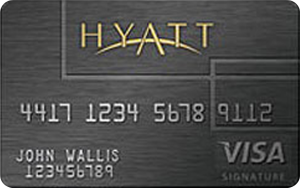 Hyatt credit card Rewards:
After spending $1000 within the first 3 months of signing up, you are entitled to 2 free nights in any Hyatt properties globally.
You will also receive a free night every year on your anniversary in any of the hotel's category 1 through to 4 properties
For every $1 spent off your card at Hyatt properties, you receive 3 gold passport points which you can redeem for room upgrades, free nights, dinning and spa treatments or even transfer or donate better yet combine points to get bigger rewards.
As you spend, smart chip protection shields you from international transaction fees
 The best part about this is there are no blackout dates and you can have a late check out.
Since most Hyatt Regency properties are situated near airports, they tend to become the preferred option of most travelers which intern makes it convenient to carry the Hyatt Regency credit card which will see you earn points as you enjoy the luxury but later these points can be redeemed as air tickets (kind of like earning miles without actually flying), Under the visa signature
What is the Visa signature?
This is a prestigious level that entitles you to a number of benefits like: travel insurance, concierge service, access to entertainment events, extended warranty, purchase security and card and cash replacement, among others.
How do you earn points with hyatt credit card?
The highest number of points you can get are 3 points per dollar you spend at Hyatt. You can then get 2 points per dollar spent in restaurants, car hire agencies, airlines and on airline tickets. You also earn 1 point on every dollar spent anywhere else.
Is Gold passport the highest membership?
No. Hyatt Credit card members can attain platinum and even Diamond membership status.
One qualifies to be a Platinum member if they maintain an open credit card and do not default on any of the Gold passport rules.
The highest level, the Diamond status is attained after completing 25 stays or 50 nights at Hyatt or spends $ 20,000 annually or $ 40,000 annually every calendar year.
What are the benefits of Diamond Status?
Diamond members get more free nights up to 5 free nights depending on their expenditure. You can read more about diamond status by clicking the link above.
In how many countries can I use my card?
Hyatt is an international brand and can be found all over America, Europe, Asia Australia, New Zealand and certain countries in Africa. All Hyatt properties should accept the Hyatt Credit card.
Is there a limit to the number of credits?
Every expenditure counts and there is no limit to the number of points you can earn towards upgrades.
Platinum members earn 30% bonus points every time they stay at the hotel with 72 hour free internet availability. Diamond members get the extra advantage of 4 free room upgrades every year.
What Security features does it have?
As already mentioned, the Hyatt Credit Card has Chip and Pin technology which is not common with other credit cards. Instead of the usual magnetic swipe card, an imbedded chip is used which when inserted in a card reader, will request a Personal Identification Number or PIN, which is only known by the card holder, this helps to fight card fraud.
So is the Hyatt visa credit card affordable?
With all the perks that come with purchasing the card, the annual $75 fee is unbelievable but you would also want to acquaint yourself with the 15.24 percent APR and 19.24 percent variable cash advance charge.
Can anyone qualify for the Hyatt Credit Card?
While everyone who stays at the Hyatt properties, would be encouraged to apply, you would have to poses a minimum credit c score of 750 in order to qualify for hyatt visa credit card. The credit card is uniquely made with the latest technology and security features, making you rest assured to use the card without any major worries from all the insecurities.