The Mobil credit card becomes one of your best options if you travel a lot, whether you do it with business purposes or with your family. Unless you travel by public transportation, you will probably require plenty of gas for your car. At this point, the credit card is a top-notch solution to save money, but also to get some gifts and rewards. The issuer is committed to make your experience as attractive as possible.
So far, it does a fairly good job. Unlike other issuers, Mobil offers a wide plethora of benefits and features. Learning about them can help you make more informed choices. At the same time, gas credit cards are also appropriate for average drivers, even if you only use the vehicle around the city.
Incentives – more attractive than ever
Sure, incentives are designed to actually draw attention and convince you to sign up. But the Mobil credit card can definitely stand up in the crowd. At first, you can cut the costs with 6¢ per gallon. As long as you stick to Mobil or Exxon branded fuel, the promotion applies everywhere. However, there is one requirement – you need at least 45 gallons of gas a month. In other words, you save at least $27 a month. The offer goes up to maximum 100 gallons, so you can save $60 at most.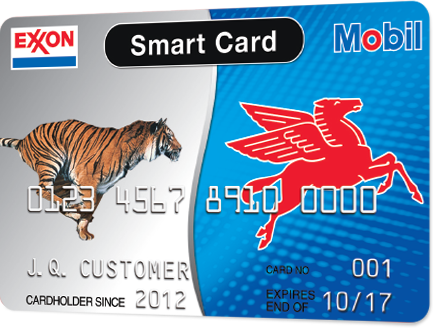 New accounts also benefit from special gifts and rewards. For example, you can earn 24¢ per gallon during the first two months. You savings are four times larger. Keep in mind that this is a limited offer. It only applies to new accounts and it has a limited time.
Exploring the commercial credit cards
Whether your business has a couple of cars or you run a huge fleet, the commercial Mobil credit card can tackle your necessities and give you the opportunity to save. Just like you have probably figured, the more money you spend, the bigger your savings are. Credit cards are so deeply customizable that you can also manage and monitor your employees' expenses on gas. There are currently three different credit cards available:
  ExxonMobil Business with many benefits and no annual fees
 ExxonMobil Business Fleet with more convenience, no fees and plenty of control
 ExxonMobil Business Fleet National with full acceptance all across the country
Each Mobil credit card has its own rewards and benefits, so research them before making a final choice.
Speedpass – adding convenience to your life
Speedpass comes with the Mobil credit card. It is a key tag. It is free and exclusive. Use it as a payment device. It must be linked to your card. Put gas into your car, then wave the gadget at the pump and it pays without having to go inside and wait in lines. It is extremely convenient and user friendly, but it also works in more than 7,000 gas stations. Speedpass also comes with a smartphone application. You can make payments through your smartphone. The application is available for free. All these features make the Mobil credit card extremely user friendly.