Suntrust credit card is more than just a credit card. It gives you more benefits than the ordinary credit card. The greatest thing is that it is tailor made to suit your specific requirements, in that there is one for each individual. Through personal banking one can easily gain rewards when you purchase gas, groceries or drugs from your drug store, as per a qualifying purchase. You may be one who enjoys catching up with the latest movies, or maybe an avid traveler, use your Suntrust credit card to earn yourself 2X the reward points. You can also earn these rewards by using your credit card to purchase your dinner take outs or restaurant meals. You can redeem these rewards for a selection of rewards, like merchandise and gifts as well as hotel and travel rewards, depending on the way that will enhance your spending effectively. One can also redeem these points for cash.
What are the benefits of Suntrust Credit Cards?
If you are interested in cash rewards, then you are in luck as with every qualifying purchase you make a one percent cash reward to yourself. The great thing is that there is no registration as well as no limited spending and you can enjoy this reward as long as you use your Suntrust credit card. As you continually enjoy using the credit card, it helps you save on cash when you combine you payments, therefore giving you an interest advantage. Your Suntrust credit card has all your expenses covered, therefore let not the lack of cash at hand limit you purchasing need or your failure to plan. You can achieve a lot with your credit card.
Suntrust credit card also provides business credit card that are customized for business purposes. Therefore you can make financial management, payments and purchases securely using this type of credit card, and earn rewards while you do so. The benefit of this type of card is a 0% APR (Annual Percentage Rate), with free employee cards as well as two options for rewards at no added costs. You can also explore the benefits of a world business credit card that come with no preset limited spending as the ability to pay online and manage your expenses using a specific accounting software. It also comes with identity theft resolution. For much larger business entities like non-profit organizations, please refer to our specialty business credit card that has more tailor-made options.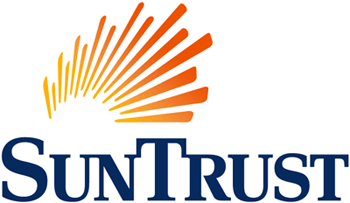 Overall Benefits of Suntrust Credit card
With over 1,600 branch locations and more than 3000 ATM branches in the southern states and Washington DC area, you are able to get the help you need. Pop into one of our branches and get the help you need. Allow us to demystify any issues that you may have concerning your credit card uses. Available to you is our 24 hour customer care number service, just dial the number on the back of your card. Enroll to our online banking to utilize make your online payments as well as online purchases. With our credit card option you also get to be protected from overdraft, so that you will be covered in case your balance comes up short.