If you have no credit or poor credit and you are looking for a credit card, the Legacy credit card from First National Credit Card might be for you. If you have applied for credit cards in the past and have been denied, this kind of credit card can be the solution. However, the only way to apply for this credit card is if First National CC sends you a private invitation, which means it is by invitation only.
This credit card is not a secured card, so you don't need to pay a certain amount of money from your pocket to be able to have credit. It is an unsecured credit card with a credit limit ranging from $250 to $500. However, the credit limit will be reduced by the different fees that you need to pay when you are approved. These are fees for set-up your account, a program fee and an annual fee. You have 30 days to cancel the card if you decide to do so, as long as you haven't used the card. All the fees will be canceled if you cancel within 30 days.
The legacy visa credit cardhas some advantages. First, it can help you repair or build your credit by paying the bills on time. This company reports to all of the three credit bureaus. So, if you have some negative credit history in your credit reports, using this credit card properly can help you improve your credit. Second, you can manage the credit card account online. You will have access to your account, 24 hours a day, 7 days a week. It will allow you to make payments, see transaction and just keep track of your purchases. Third, it provides purchase protection that protects your purchases from theft, loss or accidental damage for a limited time period. It also provides travel insurance that protects you if for any reason you can't pay back the money used for travel expenses. Forth and last, in some occasions the annual fee can be waived when you make a qualify purchase.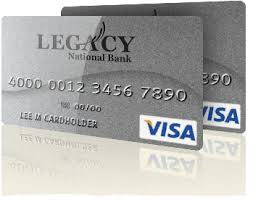 What are the disadvantages of legacy visa credit card?
  Lower credit limit – everyone that is approved, will start with a low credit limit, usually from $250 to $500.
  Higher interest rates than other credit cards – Probably after being a good customer, you can ask them for a lower interest rate, so be ready to negotiate.
 High start-up fees – like I mentioned before, you will need to pay some start-up fees that will reduce your credit limit.
 By invitation only – not everyone is allowed to apply for this credit card, First National CC needs to invite you first.
Always do your own research when applying for a credit card. It is important to always read the terms and conditions of any credit card, specially paying a lot attention to the fine prints and hidden fees.
If you are seriously in the need of a credit card but other credit card companies have closed their doors on you, the Legacy visa credit card can be for you.